5 Ways to Design Your New Kitchen
Are you moving into a home or redoing your kitchen? Whether you're a pro or a new designer, we have 5 tips to design your new kitchen. Your kitchen may be used to host friends or cook for family. It's one of the more active parts of the home, so it has to look great and be functional too. Whether you're entertaining or starting a catering business, the kitchen should look like a space you can enjoy and want to be in.
1. How Will You Use the Kitchen?
Think about your cooking habits at the moment. Do you enjoy spending all day there, exploring or creating new recipes? You may want a stocked pantry with a few essential appliances and tools. Maybe you and your partner are seasoned chefs starting a new business. In that case, you may need space for special equipment to handle the large quantities of food.
Or perhaps it's a space you hope to host friends in. If that's your story, maybe you're interested in having the essentials to serve guests and enough room for them to enjoy their time. Figuring out what you use in the kitchen, for now, will help you find the best way the new version can fit into your life.
What if you're experiencing a life change, perhaps going from a household filled with parents or roommates to a home with your life partner? Maybe you're unsure of your personal style, or maybe you would like to upgrade it. You can play around with an online 3D kitchen planner to find what style will serve you best.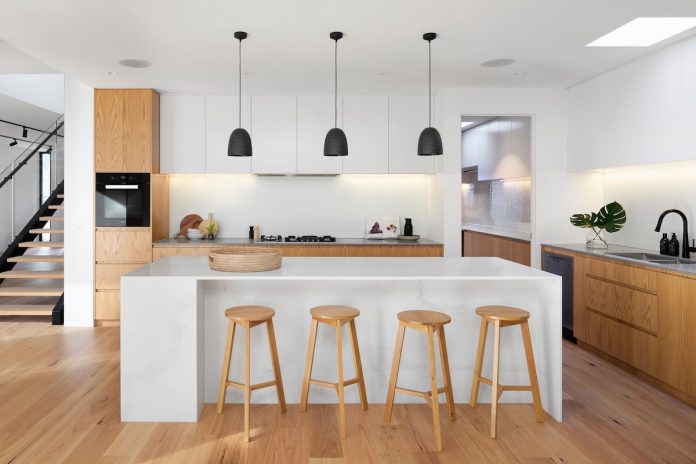 2. Create Your Floor and Wall Plan
Once you know its primary purpose, you can now start to design your new kitchen. You can go classic with a pen and paper to store these measurements or use an app.
The first thing you'll need is exact floor and wall measurements. Take your time with this and be as precise as possible. Measure the total size of the room and then fill in the minor details: where's the window and how big is it? Where are the outlets? Are there cabinets or a sink structure already in place?
3. Make an Outline
Once you have the numbers written down, let's start thinking about filling the space. If there aren't any already in place, you can plan where to place base and wall cabinets. You'll want enough to have the storage you need but balance it with open space for larger appliances or room for people to move about.
During this stage, let's also keep in mind how these doors open, especially at corners – you'll want to be able to open doors at the same time without them banging into each other.
If there's enough room, you may want to include an island to serve as a countertop and extra storage. You can make a note of how large you want it to be and how far it is from other cabinets.
4. Research Fixtures and Appliances
You may already have a mental list of what you want in your kitchen, or perhaps you already have some from your previous kitchen. If not, let's get more specific about what you'll enjoy:
What kind of sink do you want? Do you want one large sink divided into two? A long, deep one? How about the faucet length and material?
You can apply these questions to each major appliance or feature in this space. First, you'll want to fill in the more essential parts: a sink, fridge, oven, and cooktop. Once you have these in place, you can fill in some accessorizing details. These may include displaying your knife collection or structures for your fancy pans.
While you're doing so, think about the materials of each piece. Depending on how often you use it or how close it is to the sink or stove, it may need to be cleaned quite often. That means this is an excellent opportunity to look for items that fit your style, are functional, and wipe down easily.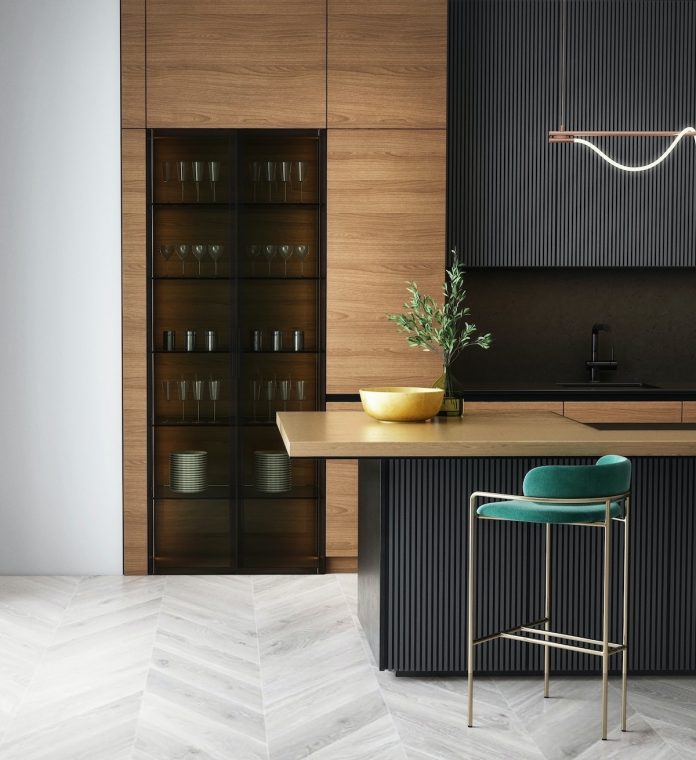 5. Think About Lighting when you want to design your new kitchen
Once everything else is in place, choosing the proper lighting will pull your kitchen together. Since you may use the space throughout the day, you'll want to think about having good light whenever you need it. Not all areas need bright light, but countertops, where you'll be doing precise work, might need more light than entertaining zones.
While you're thinking about lighting, ask yourself whether you want a more oversized chandelier that can create both bright and mood lighting or something smaller to plug into outlets. This is a great time to plan your lighting around other appliances if you choose the latter since outlet space is usually sparse. If you have a ton of electronics, you can always build more outlet space, even have them hidden in the countertops.
Designing your new kitchen does not have to be a complicated process. If anything, it's an excellent opportunity to tailor the space to your style and needs.