Promenada Contemporary Apartment in Warsaw by hilight.design
Architects/ designers: hilight.design
Size: 926 sqft /  86 sqm
Year: 2020
Description:
Green – a color we need and are often lacking so much nowadays. It's not only missing in our lives, but sometimes it's hard to find it in modern apartment design. Hopefully, there's more than enough green in this apartment in Warsaw, we recently finished.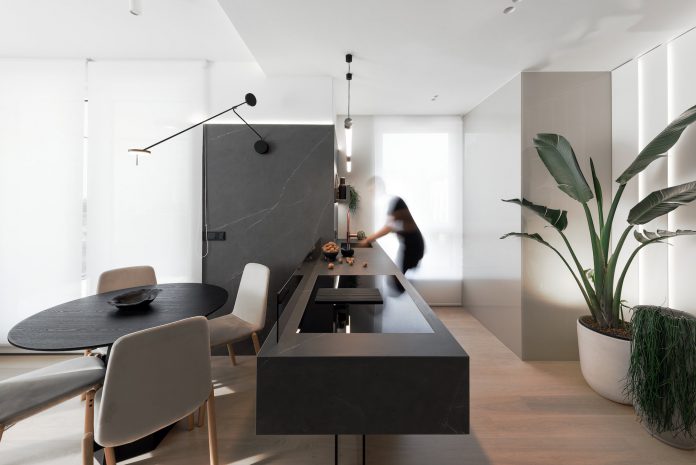 A modern, stylish design with sharp straight lines, by which different colors and finishes are combined into something that draws your attention this much.
A palette of dark browns is combined with shades of grey ranging from light to really dark ones, which all together transform a kitchen into something unique and cozy.
But, probably, the most important thing at this place are strong accents with greenery – live plants that give character to this place …character, style and modernity!
About hilight.design
Style and modernity
We are a modern design studio which is really into designing and arranging interiors. We try our best to combine function and comfort in houses, apartments or business premises' interiors we design. Delivering a unique style and high quality to make our clients feel comfort and convenience is what really matters for us.
Making your dreams come true
We get to know your taste, requirements and expectations while preparing for the project's implementation. We are here for you and we work for you, transforming your dreams into real design visions and ready-made projects.
A complex approach
A comprehensive approach to your project realization and a full range of services we offer. A design process starting from the preparation of initial visions to final design, author's supervision of the implementation and delivery of the necessary elements.
Thank you for reading Promenada Contemporary Apartment in Warsaw by hilight.design