How to Stock Vacation Rentals in Arizona
When you're at home, there's nothing more annoying than running out of paper towels, forks, bathroom tissue, or any other essential item. Just imagine, then, how annoying this is for guests staying at a vacation rental property. They're paying to be there—so shouldn't they at least have the basic amenities?
If you own a vacation home rental, working with a sedona rental management company is one of the most effective ways to keep your vacation property fully stocked and ready for each new guest. Here, we're walking you through how to stock vacation rentals in Arizona. In addition to the essential home items (like towels, cookware, or a good internet connection), there are ways that you can stock your vacation rental to help your guests truly experience the sights and sounds of your particular location.
Welcome them to the Grand Canyon State with some of these stocking ideas below.
STOCKING YOUR VACATION HOME RENTAL
You don't always need to hire a vacation rental management company to ensure that your vacation home is fully stocked for guests. Of course, these companies can prove extremely helpful—especially if you have a lot of guests throughout the year—but there are simple ways to keep your rental home ready.
But what exactly should you make sure to include when stocking your vacation home rental? What can guests expect as "essential" items and what might be unnecessary? Well, of course it's different for each home, but there are some home items you don't want to forget.
Let's break down stocking your vacation home by going room to room: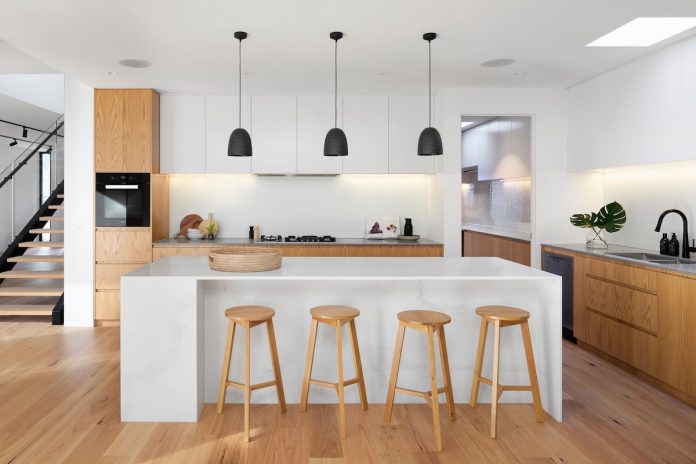 1. Kitchen
Often the centerpiece of any home, you'll want to make sure your kitchen is fully stocked. Having a functional kitchen is one of the primary reasons people pick vacation homes over a hotel or motel. Not only is cooking with the family enjoyable, but you can dramatically cut down on vacation costs by not having to eat out for every meal. Include basic cookware and enough plates and utensils so that everyone can share a meal together.
2. Bedrooms
Help your guests get a good night's sleep by keeping the bedrooms stocked. Make sure they have clean sheets, pillows, and a comforter. Even though you're in the desert, the nights can get chilly, so you should also include extra sheets and blankets. Your bedrooms should also have lamps and some essential furniture pieces, such as a nightstand and dresser. Don't forget an alarm clock, too, so that your guests don't miss out on any fun morning activities.
3. Bathrooms
You won't have many guests coming back if your bathrooms aren't stocked and fully functional. While these rooms may be easy to overlook, they are, of course, essential for any home. Make sure your bathrooms are stocked up with toilet paper, tissues, soap, and shampoo. It's a nice touch to also include other common bathroom amenities, like a spare disposable razor and toothbrush. As a guest, it's easy to overlook packing some of these items. Show your guests that you're one step ahead by providing these essential bathroom items.
4. Entertainment
Help your guests get the most out of their vacation by providing them with a few entertainment options. You don't necessarily need a dedicated home theater room or a huge flatscreen smart TV, but most guests do expect a television and a decent internet connection (don't forget to leave the WIFI password somewhere visible). If you don't want a monthly cable bill for a property you're never at, consider purchasing a smart TV and allowing guests to watch their favorite streaming services like Netflix, Hulu, or Amazon Prime.
In addition to digital entertainment options, it's also nice to provide your guests with traditional ways to entertain themselves. Having a selection of board games and a deck of cards is a great way to help families spend time together and connect.
HOW TO STOCK VACATION RENTALS IN ARIZONA
In addition to supplying all the essentials for your guests, a stellar vacation home rental will take it even one step further. How do you do this? One way is by helping your guests embrace the local scene. Of course, this depends entirely on the location of your vacation home.
A vacation rental on the California coast will have different things to offer compared to one nestled in the mountains in Colorado. Here, however, we're focusing on vacation rentals in Arizona. So, how exactly can you connect your guests to this beautiful state?
It's helpful to put yourself in the shoes of your guests. If you were visiting Arizona for the first time, what would you want to do? Arizona is renowned for its natural beauty and easy access to a variety of parks and recreational hot spots. Providing some essential outdoor gear (hats, sunscreen, extra water bottles) is a great way to encourage your guests to get out and explore. If your property has a yard, keeping a frisbee or football handy is a simple (and cost-effective) way to help your guests enjoy their time.
If your rental property is in or close to a major Arizona city (think Phoenix, Sedona, Tucson) you could include a list of your favorite restaurants or bars to get them started. To really go above and beyond, you can even leave them with a gift card to one of your favorite establishments. It doesn't need to be much, but these simple gestures can go a long way in helping your guests fall in love with Arizona.
CONCLUSION – HOW TO STOCK VACATION RENTALS IN ARIZONA
A home is so much more than just four walls and a roof. By keeping your vacation rental home fully stocked with essential items (clean sheets, pots and pans, and don't forget the WIFI), you can help your guests feel more at home while they're on vacation. Isn't this why people choose vacation rentals in the first place?
Keeping up with vacation rental management is never easy. Especially if you have a lot of guests and live far from your vacation property, it can be challenging to keep your vacation home fully stocked and prepared for each new guest. This is why many vacation homeowners turn to vocational rental management companies. These professionals can help you manage your property and keep guests coming back for years to come.