5 Kitchen Design Tips for Selling Your Home
Your kitchen is the ultimate "money room". It's the first room buyers gravitated to when entering the home. And it's also the last room they think about when it comes time to put in an offer. Are you confident you're getting maximum value out of this space? Keep reading to find out several kitchen design tips for selling your home.
What Makes a Good Kitchen?
We all have different design preferences and styles. So rather than trying to appeal to a specific buyer with precise paint colors and aesthetic elements, you should focus on getting the big picture right. Regardless of stylistic preferences, every homebuyer values the following in a kitchen:
Fresh and clean.

People want a kitchen to look and smell fresh. It goes without saying you should have your kitchen professionally cleaned before putting it on the market.

Spacious and light.

No buyer is looking for a dark and cramped kitchen. The goal is to make it as spacious and light as possible. This is obviously easier in some kitchens than others, but there are always ways to accomplish it regardless of the footprint. 

Functional yet organized.

A good kitchen strikes a balance between being functional and organized. In other words, you want access to as many features as possible without making it feel as if it's cluttered.
If you can design a kitchen that's fresh and clean, spacious and light, and functional yet organized, you won't have any trouble connecting with prospective buyers.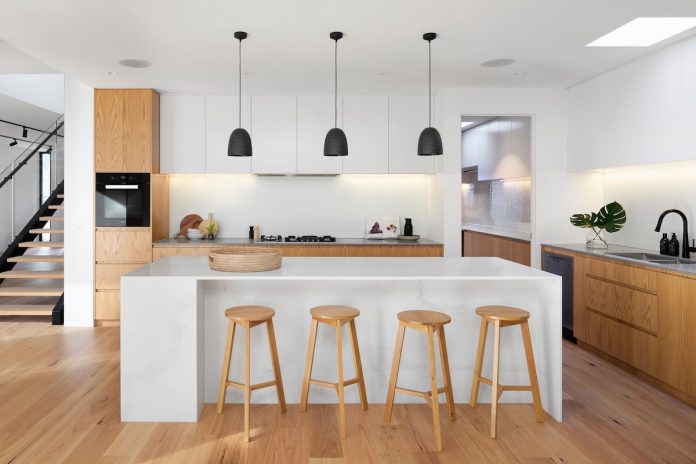 5 Helpful Kitchen Design Tips
Now that you know the what of a good kitchen, let's discuss how you can achieve it. Here are a few basic suggestions:
Cabinets are a good place to begin. And while it may not make financial sense to totally replace cabinets just to put the house on the market, there are plenty of ways to freshen them up. For example:
Paint cabinets and add new hardware to create a different look.

Create a more open look by removing the doors from upper cabinets and replacing them with glass fronts.

Consider extending cabinets up to the ceiling to draw the eye up and make the kitchen look more spacious.

Leave the basic shell of your cabinets in place, but replace the doors to achieve a more modern aesthetic.
With a little creativity and elbow grease, you can give your cabinets a totally different look without eating through your entire budget. Consider layering some of these tips together to achieve the right design.
In a small kitchen, you probably don't want a large island. However, if your kitchen has space, adding an island can increase functionality.
As Modern Living Group explains, "Kitchen islands are a great way to add valuable workspace that's less likely to be consumed by small appliances, offer bonus storage underneath, and can even be used to add an accent color to your space."
If you'll be upgrading your kitchen cabinets, it's a good idea to incorporate the kitchen island at the same time. You'll want to ensure it's consistent with the rest of the cabinetry. 
Have outdated, dark granite countertops? Or maybe you're working with laminate or formica? Upgrading to a light quartz countertop can transform the look of your room without breaking the budget. If you're going for an even more luxurious vibe, marble countertops are also an option. 
Add a Statement Light Fixture
Lighting can make or break your kitchen's appearance. In addition to tasteful under-cabinet task lighting, consider making a statement with hanging fixtures. Considering that you're selling the home and won't be living here indefinitely, this is one area where it's okay to go with something trendy. Buyers will love it, and you'll generate a positive return on investment.
Do it Right (Avoid Taking Shortcuts)
Don't take shortcuts with your kitchen. You might think you're fooling buyers, but they can tell. Here are two common renovation shortcuts that buyers and agents see right through:
The "step-up" trick.

In an effort to save money on a remodel, homeowners will often leave the original flooring in place and add another layer on top. This leads to a one or two-inch difference between the height of the kitchen floor and the height of the rest of the house. This "step-up" is awkward and easy to spot. Spend the extra money and do it the right way.

Old on new.

In an effort to hide old, ugly cabinets, some homeowners will simply purchase expensive countertops. But no matter how nice the counters are, buyers will still see the ugly cabinets. You're better off upgrading the cabinets and buying mid-range counters.
We're not telling you not to upgrade your floors or countertops, but be mindful of how you're doing so. Slapping a bandaid on a wart doesn't make the wart go away. It may hide it, but buyers will know.
Prepare Your Kitchen for Listing
Designing a kitchen with the expressed intent of listing your home is totally different than renovating a kitchen you plan on using for the next five-plus years. You have to look past your own design preferences and idiosyncrasies to account for mass appeal in the marketplace. And if you use the tips discussed above, you shouldn't have any trouble accomplishing this objective.