Portland Hilltop House: sophisticated yet comfortable home for an artist couple
Architects: Olson Kundig
Location: Portland, Oregon, USA
Year: 2015
Photo courtesy: Olson Kundig
Description:
"The Portland Hilltop House was commissioned by an artist couple who own a series of stores featuring American art, craft, and jewelry. Situated on a hillside with views toward downtown, the design draws on classical proportions and scale to produce a sophisticated yet comfortable home.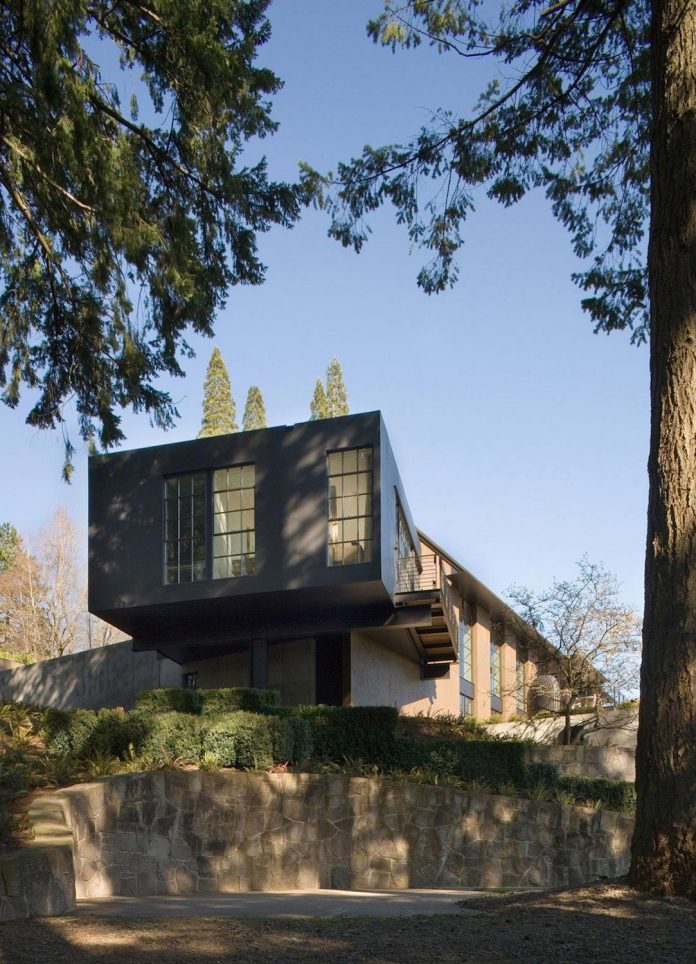 The simple, long bar plan and the spacing of the floor-to-ceiling windows provide both rigorous proportion and rhythm throughout the building. A lantern like entry vestibule welcomes visitors to the house from an auto court. The main level includes the primary living areas (kitchen, dining room, and living room), an office, and a master suite. Views across the main axis—from the courtyard to the south-facing balconies—provide a strong connection to the outdoors. At the end of the bar, the master suite angles away from the rest of the house, taking in the best views and appearing to float in the trees.
Interiors
A simple palette of materials—white marble, dark woods, natural-toned fabrics, and sheer draperies—contributes to the serene elegance of the interiors. Among the many custom-designed furnishings include the master bed and side tables, bedroom bench, and the fireplace tools.
Undyed merino wood handcrafted by Jean Hicks forms a soft bench at the foot of the master bed.
Toward the rear of the house, the site slopes down and away from the auto court toward a pool and terraced gardens. The exposed lower level of the house contains a media room, guest quarters, storage, and a 100-foot-long library that stretches the length of the house."
Thank you for reading this article!