Modern Mediterranean Vivienda en el Empordà sea front villa by Anna Podio Arquitectura
Architects: Anna Podio Arquitectura
Location: Santa Cristina d'Aro, Catalunya, Spain
Year: 2015
Area: 2.691 ft²/ 250 m²
Photo courtesy: Jordi Miralles
Description:
"An isolated house located in a small residential area of the coastal road linking Sant Feliu de Guíxols with Tossa de Mar. The project consisted in designing a building that worked as a shelter from the North winds and also faced the open sea.
Distributed on 2 floors, the arrangement of the three open blocks from east to west in a 180 degree orientation over the Mediterranean Sea allows its occupants to contemplate the course of the sun from sunrise to sunset.
The infinite pool, of small dimensions, intends to bring the sea into the building giving it a piece of the Mediterranean halfway between the living room and the kitchen. The lower level floor, with three underground facades, provides the rooms that benefit from the thermal inertia.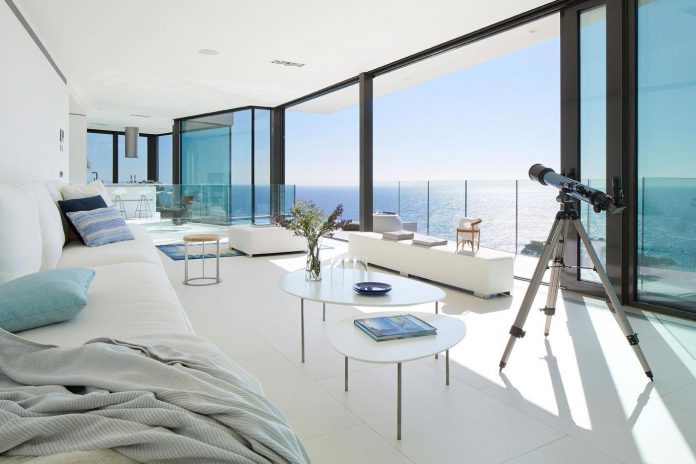 The original site, with a steep slope towards the sea, represented a constructive challenge when seating the building and integrating it into the landscape. Avoiding earth movements and environmental impact was a challenge, and at the same time the most rewarding part of the project.
The garden was designed with ground cover, aromatic & shrubby plants, as well as native trees. We believed this would, in the near future, facilitate the coexistence with the environment.
Natural limestone and a large format of porcelain tiles make up the façade cladding. The first one, white stone, was placed on the upper floor to play with volumes and light. The second, black ceramic, covered the ground floor, giving it lightness and merging it with the soil and vegetation.
Energy efficiency was achieved with orientation, cross ventilation between different levels, home automation systems and solar energy. LED lighting also has played an important role, both inside and outside, along with the aluminum joinery with very low emissivity glass and sun protection systems."
Thank you for reading this article!