Kearsarge modern stand-alone guest house in Brentwood by Kurt Krueger Architects
Architects: Kurt Krueger Architects
Location: Brentwood, California, USA
Year: 2015
Photo courtesy: Unlimited Style Photography
Description:
"The Kearsarge Guest House is a new stand-alone guest house on the property of the 1968 M.G. Residence by the Romanian-American mid-century modernist architect Haralamb H. Georgescu.
The guest house replaces an old turn-of the century wooden agricultural shed and nearly replicates the footprint of 25'x14'. Because of the limitations of the hillside lot, it was not possible to locate the guest house in the rear yard, so the objective was to integrate this into the front yard entry approach.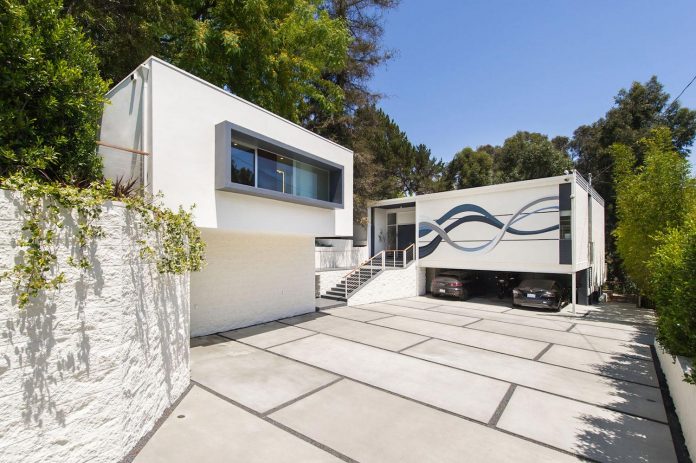 In addition, the owners desired to have a greater flat turn-around and parking area while not taking away the usable outdoor space at the top of the hill. Our solution was to add in a new retaining wall to hold the earth back along the hillside and cantilever the guest house over the wall, both creating more outdoor space at the top of the hill for the guest house, but the cantilever creates its own carport for the owners motorcycles and bikes.
At the entryway we took advantage of the landing and walkway to the guest house by creating a water feature with split-faced basalt. Also to honour the original architect and create a generational link between the past and present, we incorporated the sculpture of the Haralamb Georgescu's son, Christopher to the front entry and helps to distinguish one's arrival."
Thank you for reading this article!