Single-family dwelling formed by two rectangular prisms
Architects: g2t Arquitectos
Location: Puente Genil, Spain
Year: 2017
Area: 2.152 ft²/ 200 m²
Photo courtesy: Javier Orive
Description:
"It is the second residence of the "prisms" series, in which we composed with pure rectangular volumes to make up the volumetry of the building. Each prism holds different uses within the program, producing special double-legged sets in joining areas between both cores.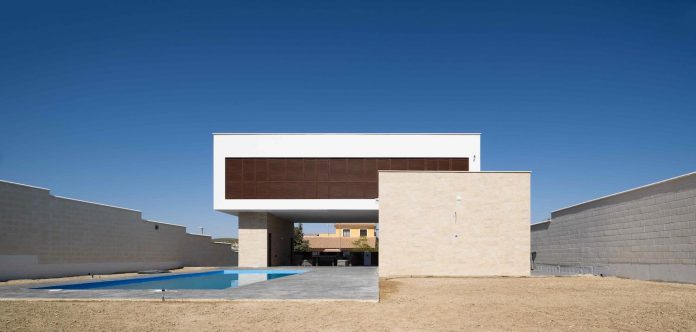 The single-family dwelling is formed by two rectangular prisms rotated between them, one supported on the other. The lower prism, which forms the ground floor, contains the daily uses of the house. The upper prism, which rests on the first and on a large pillar that contains the services of the house, is what shelters the nocturnal uses, dormitories and bathrooms.
There is a double ceiling height in the junction area between the prisms that contain the staircase.
The entire house opens onto the pool and back garden of the grounds, leaving the main facade almost completely blind, for greater privacy and better climate behavior of the building."