15 of the most interesting double height living rooms
Based on what we've seen on social media platforms and searching on google, we found out that in recent years, more on more of us search or have an interest in double height living rooms.
Maybe you're thinking about how you could create or modify your living room to the top rung of the trend ladder? Removing the ceiling and creating a double height living room? This style is contemporary, very fashionable, creating the feeling of a huge space that is also functional.
As we said earlier, based in statistics, the entire world is falling in love with this trend. This kind of design will do more than make your living room utterly remarkable, it will also add depth and dimension to the rest of the house.
We've selected some of the most interesting double height living rooms that we found on internet: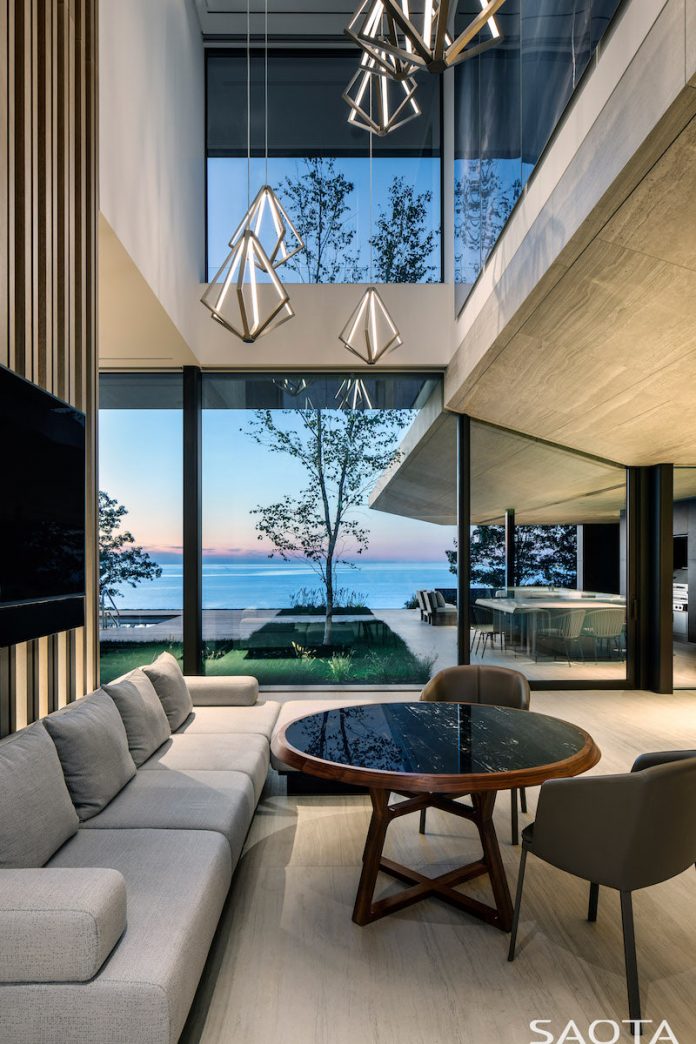 Lake Huron Residence by SAOTA
Architects: SAOTA
Interior Designer: ARRCC
Location: Ontario, Canada
Photo: Adam Letch
This summer house is set on the banks of Lake Huron in a small, remote Canadian town about an hour's drive from London, Ontario. While the architectural context might be characterised as somewhat conservative "cabin country", this house attempts to extend the possibilities of the traditional lakeside family retreat through a contemporary architectural approach, harnessing recent developments in design, technology and sustainability to connect meaningfully with its beautiful natural setting while exploring new ways of enhancing the lifestyle experience of the family summer getaway.
---
Stiletto House is a fusion of sculpture and building designed by EHKA STUDIO
Architects: EHKA STUDIO LLP
Inspired by the beauty of free-flowing curves, Stiletto House is a fusion of sculpture and building, a blending of form and function to create living spaces that inspire. It embraces traditional concepts of tropical architecture while reinterpreting them in contemporary forms. It explores what a house could be like for an avid collector of antiques and ultra-modern furniture, a house that displays and becomes a display itself.
---
Llano Retreat, a double height living room mansion by Michael Hsu and Laura Roberts Design
Architects: Michael Hsu
Designers: Laura Roberts Design
Location: Llano, Texas, United States
Year: 2015
Photo courtesy: Casey Dunn
---
Modern two-story house designed by Dettling-Architekten in Bruchsal-Helmsheim, Germany
Architects: Dettling-Architekten
Location: Bruchsal-Helmsheim, Germany
Year: 2014
Photo courtesy: Daniel Vieser
---
Saint-Tropez residence, a modern interpretation of Côte d'Azur living by SAOTA
Architects: SAOTA
Location: Saint-Tropez, France
Year: 2014
Photo courtesy: Adam Letch
This residence is a modern interpretation of St Tropez living. The contemporary, rectilinear, cubic design was carefully considered to blend in with the more traditional residences that are prevalent in the area.
---
Contemporary Manhattan Loft with a double height living room in Moscow designed by INRE
Architects: INRE
Location: Moscow, Russia
Year: 2012
Area: 1.300 ft²/ 120 m²
Photo courtesy: INRE
---
Ultra Modern Penthouse One-11 by Milano Contract District could be your next dream home
Architects: Milano Contract District
Location: Milan, Italy
Year: 2016
Photography: ©CityLife
---
Penthouse defined by a cladded wooden skin and a floating structure suspended from the ceiling through vertical steel profiles
Architects: Platau
Location: Beirut, Lebanon
Year: 2016
Area: 7.000 ft²/ 650 m²
Photography: ©Wissam Chaaya
Description:
The project is an interior refurbishment of a two floors penthouse for a family of four, located in Wadi Abu Jamil in Beirut Central District. The original arrangement of the penthouse presented a fragmented circulation between its two floors with poor spatial interaction, and a narrow main foyer.
---
Penthouse in keeping with the 19th­ century architecture designed by ODA New York
Architects: ODA New York
Location: New York, USA
Photography: ©ODA New York
Description:
Situated on a cobblestone street in TriBeCa stands an 1892 building, originally designed by Julius Kastner for a liquor merchant, and later taken over by a pistachio baron. As a conservation project, the goal behind 10 Hubert Street was to return the space to its original design, but still channel TriBeCa's atmosphere. Aside for the interior brick walls being intact, the rest of the dilapidated building left little to reference.
---
Mayfair Duplex Penthouse offers an elegant and stylish way of life in the West End of London
Architects: Derek Williams Limited
Location: Mayfair, London, England
Year: 2016
Photo courtesy: Olivier Dassance
Description:
"Derek Williams Limited was commissioned to re-design and upgrade Mayfair House to create the four stunning residences they have become today, embodying all that is essential for contemporary living. The interiors have been intelligently planned for both aesthetic effect and practical use, the well proportioned spaces and high ceilings make for uplifting and exciting experiences throughout.
---
Modern PANO Penthouse situated at the 53th – 55th floor of a high-end residential tower in Bangkok by Ayutt and Associates Design
Architects: Ayutt and Associates Design
Location: Bangkok, Thailand
Year: 2014
Area: 6.458 ft²/ 600 m²
Photo courtesy: Ayutt and Associates Design
Description:
The PANO Penthouse is at the 53th – 55th floor of a high-end residential tower in Bangkok which is the fourth highest apartment in Thailand. AAd (Ayutt and Associates design) designed this penthouse under the concept of "living between the city and the nature" offers a modern lifestyle with luxury and relaxation with panoramic views towards the historic Chao Phraya River. The Penthouse was specially developed for a single family in need of a place to combine privacy with socializing living space.
---
Ultramodern double height living room in Tel Aviv
Location: Tel Aviv, Israel
Photo courtesy: Itay Sikolski
Description:
Tel Aviv's most stunning penthouse residence is now available in the W Tower in Park Tzameret. Located over the top three floors, the state of the art penthouse enjoys exceptional views of Tel Aviv and the Mediterranean Sea. With features including high ceilings and 6m water feature in the lounge, private internal elevator, fully automatic smart home with private swimming pool, glass floor terrace overlooking the lounge, three further bedrooms and bathrooms plus maid's room. (All controllable from your iphone.)
---
St. Pancras, an double height living room penthouse by Thomas Griem,
Location: London, England
Photo courtesy: PHILIPVILE
Description:
TG-Studio has transformed this 3 bed room penthouse located in the grade 1 listed St Pancras chambers. The apartment is one of three penthouses in the 52 unit development by the Manhattan loft corporation. It covers the top three floors of the west tower of this famous London landmark. The client Arran Patel hired TG studio to transform the unit from the standard developer spec into a personal and luxurious home.
---
Duplex Penthouse in Astor Place Tower by Charles Gwathmey and Robert Siegel
Location: at the intersection of Lafayette Street, Astor Place and Fourth Avenue, New York City
Area: 4,411 square foot
Photos:  Elliman, Scott France, David Sundberg
Description:
The Astor Place Tower is a 21-story mixed use commercial and residential condominium containing 13,000 square feet of retail space and 39 museum–quality architectural loft residences. Designed by Charles Gwathmey and Robert Siegel and completed in 2006, the "sculpture for living" is located on one of New York City's primary urban squares at the intersection of Lafayette Street, Astor Place and Fourth Avenue.
---
Contemporary open space double height living room by Ofist in Istanbul
Architects: Ofist
Location: Karaköy, Istanbul, Turkey
Year: 2012
Area: 1.991 ft²/ 185 m²
Photo courtesy: Koray Erkaya
Description:
Is a 180m2 penthouse belonging to a 45 year old bachelor, in the heart of Istanbul, facing an old Armenian church Getronagan, and Galata Tower on the background.