Family House in Punta Canide designed by Díaz y Díaz Arquitectos in the Bay, with stunning sea views
Architects: Díaz y Díaz Arquitectos
Location: Oleiros, A Coruña, Spain
Year: 2015
Area: 5.920 ft²/ 550 m²
Photo courtesy: Hector Santos-Diez
Description:
"This detached house is located in Punta Canide, Oleiros, in the Bay, with stunning sea views. Due to this location, the building should respond to some very specific buildable constrains and setbacks, required by municipal regulations, as well as the morphology of the land itself, which required adapting to the slope of the plot, with a drop of nearly three metres. We also searched for the best orientation to promote the best views of the building sight.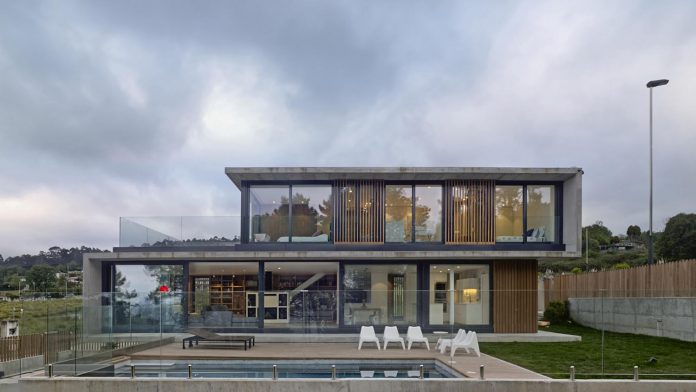 Three materials are the absolute protagonists of this work, concrete, wood and glass.
The building leaves plenty of free space on the west bank of the plot, where a wooden platform is implanted with a swimming pool and landscaping. Concrete is the skeleton, it turns, bends and moves, and shapes the housing at three different rectangular floor levels, creating different areas of terraces and covered entrances as design in the project. The volume of lower ground floor has been rotated 90 degrees from the volume of the ground floor and first floor, and fits in with the existing slope of the plot. This volume runs parallel to the road vehicle access so it is used as a garage area and is the ideal location for the room facilities and laundry facilities.
The ground floor runs parallel to the longitudinal axis of the plot, to level with the upper road which is the main pedestrian access. In this volume are located the day areas of the house, kitchen, living room and a small bathroom, the glass becomes the main element, so that all the rooms turn to the views and allow the house to open to the outside towards the terraced area and pool. Inside, the wood fills the housing, with the clear intention to bring warmth to the space.
All spaces are organized around a hallway-corridor where the stairs are located connecting the different volumes, and due to width of the design, it works as study area, library and play area on the top floor.
The upper floor was displaced to configure a terrace space, and at the same time setting a covered entry at ground floor level. This volume houses the night areas of housing, consisting of two bedrooms with a shared bathroom and the master bedroom with bathroom and dressing. This bedroom opens onto a terrace area that becomes a privileged place with views over the estuary of A Coruna.
The building is protected both for privacy and sunlight reasons with paneled wooden slats that run along the front of glazed areas."
Thank you for reading this article!