Driessen House designed with two different textures, stone and white features awesome sea views
Architects: Antonio Altarriba Arquitecto
Location: Dénia, Alicante, Spain
Year: 2016
Area: 3.595 ft²/ 334 m²
Photo courtesy: Diego Opazo
Description:
"The project aims to explore the possibilities of massive volumes, treating them with two different textures, stone and white.
In an incredible environment where everywhere can see the sea, building makes a gradual this approach, closing access only performing certain openings to generate cross ventilation, but opening completely at sea views.
The building is based on a volume-stone plinth, nestled on the ground, with openings on the east side, providing lower stays light, ventilation and magnificent views. On this base volume stone room, the target volume of two heights, access and kitchen-living being on the ground floor and first floor master bedroom is based, and is topped with a volume of three heights which is the stairs connecting the socket with different volumes.
The outdoor spaces are treated as part of the house, since the opening of the massive volumes sea is total, connecting the entire exterior with the interior, even in certain cases such as the kitchen window, blurring the boundary line, entering in the overall composition of the building, causing one of the materials of this project is the blue Mediterranean sea.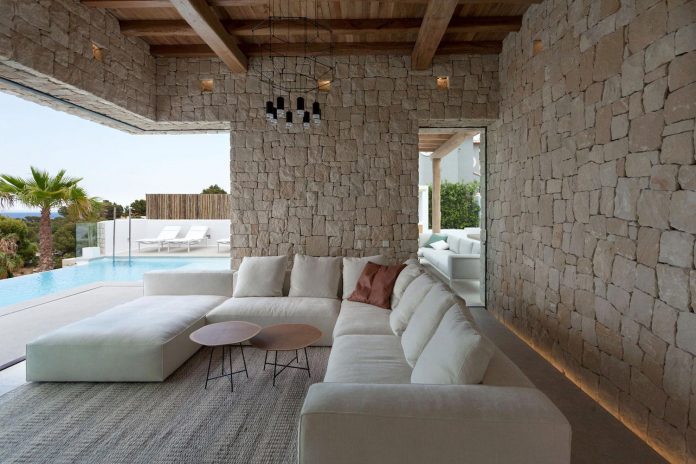 With all this, we can say that the materials used are natural stone, white stucco, elm wood and the blue sea of Denia."
Thank you for reading this article!