1021 Gallery House by Craig Steere Architects
Architects: Craig Steere Architects
Location: Perth, Western Australia, Australia
Year: 2015
Photo courtesy: Jack Lovel
Description:
Situated on a beautiful site on The Avenue in Nedlands, disregarding the Swan River in Perth's western rural areas, this house has been intended to react to the requirements of a developing gang. The building is divided into two unmistakable structure shapes arranged around a focal yard. The section structure houses the primary living regions to the ground floor and the expert suite upstairs, with both levels getting to waterway sees. The two structures are joined by means of a transitional display space that suits an expansive kitchen and living spaces that open onto the focal yard and swimming pool. The back structure was intended to suit four high school children, giving them an autonomous living zone, whilst as yet keeping up visual and physical associations with the fundamental house spaces.
The habitation has a particular contemporary expression with clean lines, cubic structures and an emotional straight pergola structure that stretches out through the houses and underscores the relationship between the three unmistakable spaces. A basic palette of materials has been chosen including grayish rendered divider ranges, stone, timber and zinc cladding, supplementing the vigorous frame and accomplishing a low-upkeep outline. This house has been intended to accomplish a 6 star vitality effective rating with the utilization of aloof sun powered configuration standards and the cautious determination of materials and innovations all through the house.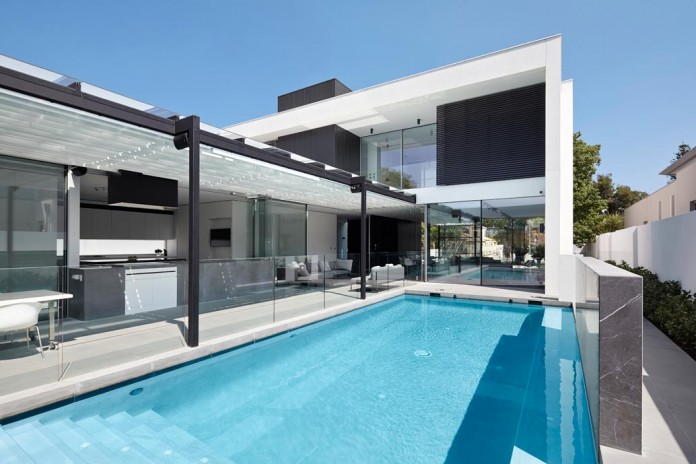 Thank you for reading this article!