Simple and humble entrance while backyard areas are speechless
Architects: Rolf Ockert
Location: Sydney, Australia
Year: 2017
Photo courtesy: Luke Butterly
Description:
"This home is designed to be an architectural experience from beginning to end. The street presentation is quiet and humble while the interior spaces reveal increasingly as one progresses through the house towards the harbour reserve, from reduced private spaces to spatially complex family areas.
The house is conceived as two pavilions arranged on each side of a central courtyard.The front pavilion contains bedrooms and amenities.The rear pavilion, opening to the nature, contains a variety of living spaces and a large study. The kitchen and dining are on the top floor, though below the entry level, due to the steep fall of the site now sitting high, offering fantastic views.
Below this the large living room, empowered by the topography to a dramatic double height space, reaching to the reserve via a large deck, sunken conversation pit and waterfall edge pool.
The pavilion concept ensures that the house sits on the site in a suitable scale. Swimming pool, conversation pit and decks off the living spaces connect the house to the harbour reserve. The house follows the steep fall of the long site, opening up in many different ways to the landscape while being solid and windowless to the sides ensures privacy where neighbours are close.
The connectivity between the spaces on each side of the courtyard is important, as is the ability for all spaces to gain excellent access to light and views of one sort or another.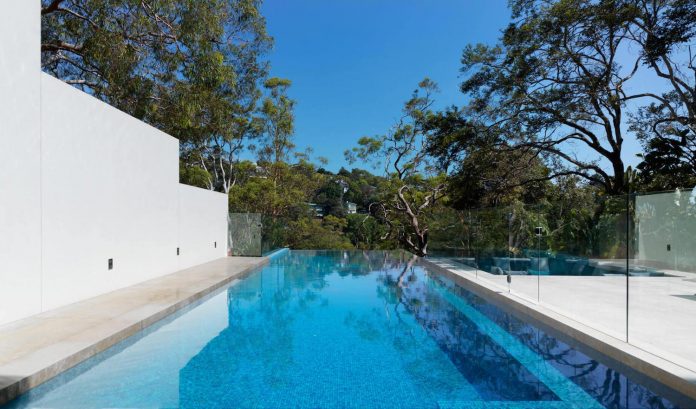 The courtyard is a source of ventilation and cooling for the home and performs well. It is also ornamental insofar that is has a garden at the base, in effect another outdoor room that is cool in summer. The side glazed wall to the building has a powerful sculptural copper screen element from top to bottom.
The circulation spaces of the home are consolidated along the eastern boundary and are generous in proportion. These areas also benefit from the light from the courtyard and the interior side of the aforementioned copper screen.
The architecture is carefully sculpted to take best advantage of light and views, especially with side and corner windows which splay and deconstruct to frame landscape elements and add a light quality to the otherwise solid structure.