SeARCH design the Jisp Villa, a restoration of an old farmhouse in Jisp, North Holland
Architects: SeARCH
Location: Jisp, Netherlands
Year: 2016
Photo courtesy: SeARCH
Description:
"How do you enlarge a farmhouse that has low eaves on three sides and one high side with barn doors? Typical North-Holland farmhouses, the 'Stolp', have a clear, strong shape. A modern extension easily demystifies this characteristic.
The traditional Stolp has a core, the 'square' comprising a hayloft over the full height. Around it are the living quarters of the farmer and the barn which is in open communication with the square. Hay and house enjoy the warmth of the cows.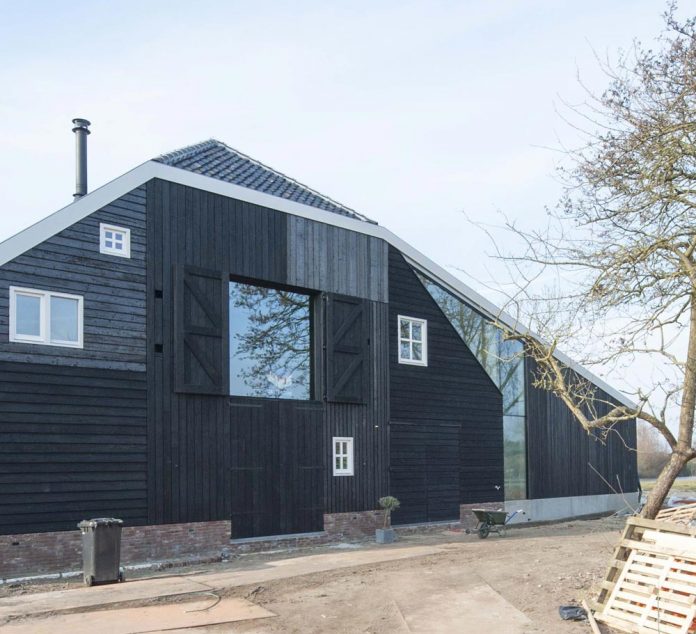 The new extension 'skews' the slanted roof up from the square and protrudes over the old brick facades. On two sides this creates a zone of 5 to 7 meters wide where the new living room, kitchen and two bedrooms are located.
The old Stolp contains the other bedrooms, study and all service areas.The living room, with a sloping concrete floor down to polder level, has 32 meters length of panoramic views over the beautiful Wormer and Jisperveld while the rooms in the existing dome have a more introversive, oak interior.
The old and mostly rotten, boards on the east facade were replaced by a single 'patchwork' of different kinds of treated wood according to Japanese Shou Sugi Ban technique, created by 'Zwarthout'."
Thank you for reading this article!