L shaped house designed to have the park with Eucalyptus trees seen as a continuation of its own garden
Architects: Shachar Rozenfeld Architects
Location: Rishon LeZion, Israel
Year: 2016
Area: 6.458 ft²/ 600 m²
Photo courtesy: Shai Epstein
Description:
"The house is built on a narrow trapezoid lot, bordering a small green public park with ancient Eucalyptus trees. The clients wanted the park to be seen as a continuation of their own private garden – The house was designed in an "L" shape to wrap around the swimming pool, facing the public park.
The longer side of the house (28 meters) contains the living room, the dining area and the kitchen, while the shorter side contains the bedroom. The connection between the two sides is a double space containing the lobby.
Vitrines are installed throughout the inner side of the house, enabling a direct connection with the outdoors. Additionally, to provide maximal openness, the vitrines are disconnected from the columns.
Glass corners in the living room and bedrooms are free of any constructive elements to allow full access to the garden.
To soften the overall look of the large building so that it feels as if it's a part of the neighborhood, the house was designed as two separate masses, one on top of the other, with the first floor being shorter than the ground floor, creating a kind of ridge.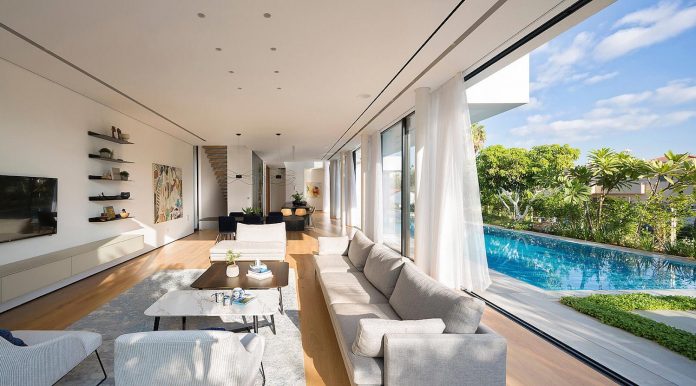 On this floor are four children's suits with rooftop balconies. Two suits on each side of the house are connected with a bridge. The bridge goes across the double space of the lobby overlooking the entrance on one side and the swimming pool on the other.
The basement has two additional children's suits facing the well-lit English courtyard and the home theater.
Careful attention was given to the climate and choice of materials. The northern (back) façade is open and coated in Cedar wood, while the southern (front) façade is more enclosed, with electrical vertical louvres that allow for better climate control, with the option to close or open it as they see fit."