A transitional kitchen is a highly coveted asset—yet not many people can accurately define it, let alone create it. Think of the transitional kitchen as a sophisticated moderator between the timelessness of traditional design and the clean, simple lines of contemporary style.
There are several elements that will typically comprise a transitional kitchen design. While you don't have to include all of these elements it's important to remember that these are the basic concepts that typically provide the framework for a sophisticated and beautiful transitional kitchen.
Elements of transitional kitchens include:
Geometric, clean and practical lines in countertops, cabinetry, crown molding, and other crafted elements
Industrial lighting throughout
Traditional lighting fixtures on the ceiling or above the countertops
Simple cabinetry styles, such as a Shaker style or a cabinet with a stained or painted finish
A blend of natural and man-made materials, usually in earth tones
Neutral and natural colors, reflecting a bold yet friendly palette
Very little decoration on the walls or moldings themselves
Pretty, classic and clean.
Non-fussy is a key element of transitional kitchens. "Never would you include corbels or ornate appliqués or other heavily decorative features typical of traditional kitchens," explains Zack Starck, CEO and owner of ShowCase Kitchens.
Neutral and natural colors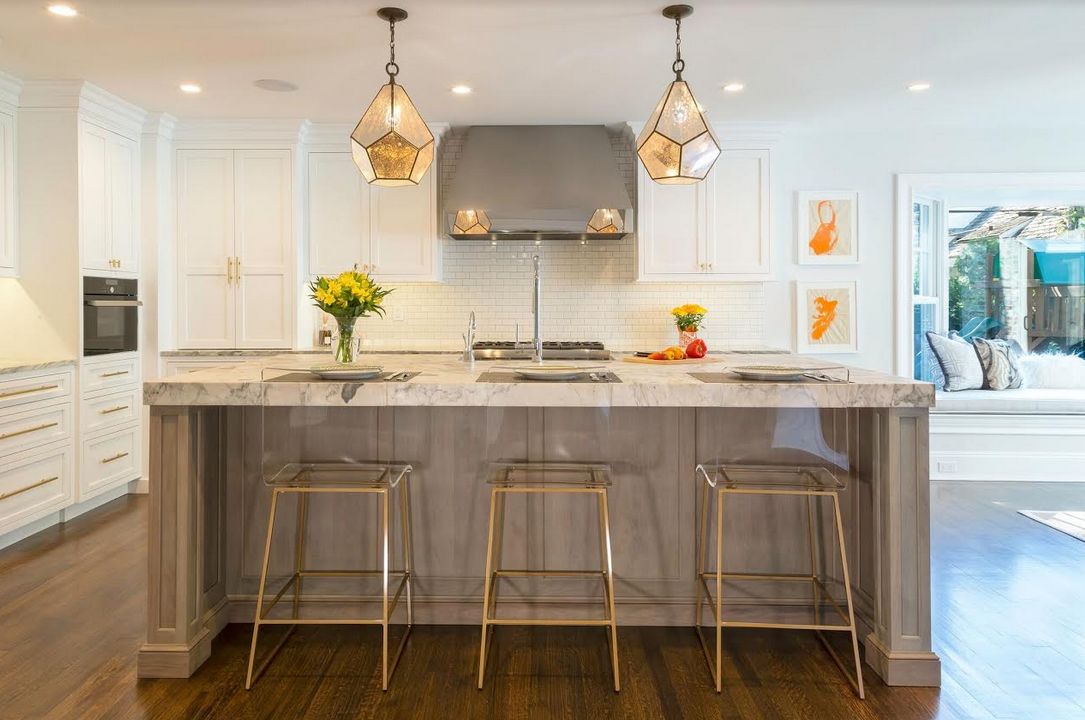 Since transitional kitchens often open to the living area, designers are opting for smooth features that blend in. What's more, they often aim to achieve a light and airy effect. "Designers report using clean colors such as whites, grays, beiges, bones and blues," Zack says. Those are good choices for now — and when homeowners decide to sell since neutral colors appeal to buyers.
Geometric, clean, and practical lines in cabinetry
In transitional kitchens, cabinets are usually a light or medium color in painted wood, wood grain or mixed materials. "Our report reveals that designers are using integrated storage with recessed panels, and doors are not as prevalent as drawers," Zack says. Matte decorative hardware or integrated hardware are also traits of this design style.
Industrial lighting throughout
"White kitchens with stainless steel appliances are still king — with frequently contrasting island and perimeter cabinetry," explains Starck. Also, expect to find fully-integrated French-door refrigerators in transitional kitchens. "Designers have told us there will either be an induction cooktop along with a wall oven and microwave, or a dual-fuel or gas range," Zack says. Updraft hoods and standard-door dishwashers are other staples in this design.
Countertops
Marble countertops and even marble backsplashes work beautifully for transitional kitchens. Subway tile for backsplashes is still a favorite.