Use of steel, glass and recycled timbers creates a modern home that feels calm and confident
Architects: Nick Bell D&A
Location: Whale Beach, Sydney, Australia
Year: 2013
Area: 3.520 ft²/ 327 m²
Photo courtesy: Simon Whitbread photo
Description:
"The concept of this house is to create a space that mirrors its coastal setting, providing both a relaxed and uplifting environment for the owners.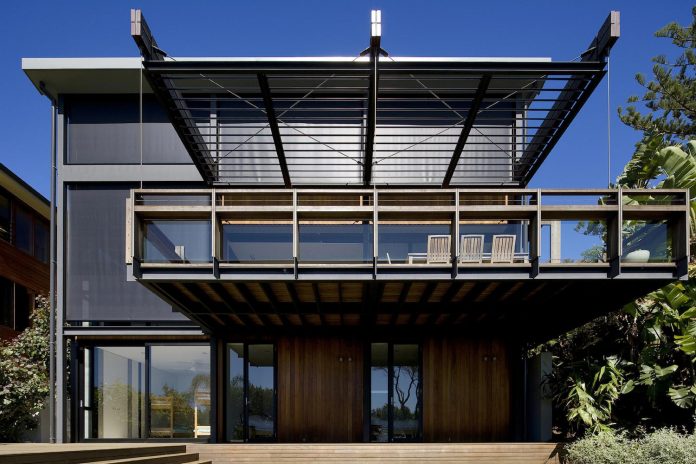 The use of steel, glass and recycled timbers creates a modern home that feels calm and confident, reflecting the underlying principle of our practice which is to design houses that are understated yet impressive; simple yet meticulously detailed.
The building is conceived as two main elements. The main three-storey block contains the primary living and sleeping accommodation, each room enjoying an easterly aspect to the ocean, with services and circulation within a western spine. To the west is a separated two-storey pavilion, containing separated private garden accommodation.
The design of the main pavilion utilises a regular steel structure. The structural frame is emphasised to provide definition of individual areas within the main space.
Crucial to the design is a two-storey void to the structure's southern end. This places the communal spaces at the heart of the house and connects the two main levels used by the permanent occupants.
The void also provides legible and inviting circulation within the building, to make the transition from the upper entry level to main living spaces. The main roof follows the slope up towards the west to capture natural afternoon light and, in combination with the void, maximises natural ventilation.
From this simple layout the design sought to reinforce the clarity of space and celebrate the interaction of the elements, surfaces and materials: steel, timber and glass.
When viewed from the beach and surrounds, the charcoal and timber palette ensures an understated recessive presence in keeping with the intended aesthetic and concept."
Thank you for reading this article!