Top Creative Ways to Spruce Up Your Outdoor Space
Who says you have to step out of your home for a refreshing break? Your outdoor space, be it a sprawling garden or a small balcony, can act as your personal sanctuary. How do you turn an empty space into a comfortable sanctuary? Here are some creative ways to spruce up your outdoor space.
With creativity and love, you can turn it into a space cherished for its mirrored personality and the time you'd enjoy spending there. Be sure that you focus on making a space that works for you before exploring these imaginative ideas.
You may design an outdoor area that not only looks excellent but also works effectively by using these suggestions. So let's get going.
6 Creative Ways to Spruce Up Your Outdoor Space
Like any other home improvement project, the key to sprucing up your outdoor space is planning. Consider how you want to use the space and what types of items would help you create a comfortable refuge for yourself. Here are the following ideas:
1. Incorporate Playground Equipment
Incorporating traditional playground equipment like a trampoline can help you bring a fun element to your outdoor space. The addition of these pieces of equipment will not only improve the atmosphere but also promote physical activity. 
It is also well-liked and a fantastic method to keep occupied and active at the same time. Vuly Play offers a variety of trampolines and other playing equipment for your outdoor area. This way, your family can stay active and healthy while enjoying the outdoors.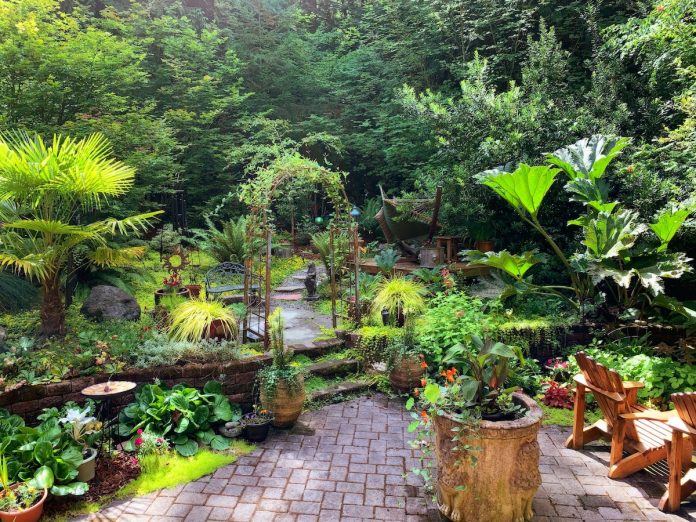 2. Plant Flowers and Herbs
Plant flowers and herbs in your outdoor area, as they add colour and life to the space. The smell of sweet-smelling blossoms and the fresh scent of herbs can make any outdoor area more inviting. Start experimenting with plants and flowers for your home. 
Consider picking perennial plants such as roses or lavender, which require little maintenance but will look great all year long. This way, you can guarantee that your outdoor area will always look its best.
3. Install Outdoor Lighting
Installing outdoor lights can improve the appearance of your outside space and create the ideal ambience for a relaxing evening. It's crucial to consider how you'll utilise the space and the ambience you want to create when choosing lights.
If you want to make your outside space feel cozy and secure, consider solar- or fairy-powered lanterns. Anybody who visits your home will feel at ease if you utilise a combination of these lights to create a cozy, serene atmosphere.
4. Hang Wind Chimes or a Birdhouse
Hanging a wind chime or a birdhouse adds an extra dimension to your outdoor area and attracts birds. The sound of the wind chimes will be calming, while birds will add an element of fun and entertainment. It also furnishes a nice decorative touch to your outdoor space. 
You can also hang other decorations, such as lanterns or windmills if you prefer, but whatever you choose will add colour and life to your area. Choose something that matches your decor and makes the place appealing. 
5. Build A Fire Pit 
It is just another technique to make your outside space more inviting and cozy. A fire pit is a fantastic method to stay warm on chilly nights and may be used to host parties and engage in discussion with loved ones. 
To make the fire pit look more interesting, you can also add stones or wood chips to it. You can also string outdoor lights around the area for extra visual appeal. Plus, invite your friends and family to enjoy a warm bonfire night. 
6. Add A Water Feature 
Lastly, a water feature is the best way to add sound and life to your outdoor area. Whether it's a fountain, pond, or waterfall, they attract birds and wildlife, adding a peaceful atmosphere while providing an interesting conversation topic. 
An added bonus of a water feature is that fish can also be added for further enjoyment. They are also an ideal way to stay cool on hot days. Furthermore, it can be the ideal approach to tie everything together if you have a garden. 
Conclusion
There are a lot of creative ways to spruce up your outdoor space. From incorporating a playground to building a fire pit and setting up a water feature – all these activities can help you make your place look attractive and inviting. 
So consider the above ideas and start making your outdoor area look beautiful. With a bit of action, time, and creativity, you can have an amazing space to enjoy with family and friends. Happy decorating!