The Colorful Joyfulness of Neon Colors In Your Apartment Decor
Color is the very first thing to notice in every place. Whether it's a dark blue, bright green, or white, colors make up an apartment and can change the ambiance of a room just by adding in one new piece. The brightness of neon colors is something that many people enjoy. It can be especially pleasing to the eye in an apartment, which is why it's no wonder that so many people are looking for ways to incorporate these colors into their decorating. With a little bit of creativity and research, you will find yourself with more than enough ideas for bringing this type of colorful joyfulness into your home. Keep reading this article to find some cool use of neon colors in your apartment decor.
1. Neon for a Pretty and Bold Statement
Neon colors in your apartment decor are pretty and fun. They are a great way to make an otherwise dull room pop. Some people may be afraid that adding these colors will take up too much space, but this is not the case. When looking for neon furniture pieces, it's important to look at the scale of each piece and figure out what size you would like your statement item to be. For example, if you have a small space and want to add in an oversized neon item, make sure the background of your room is light. You can also use different colors close together or mix them with different texture chobi rugs for an extra pop! For those who are not quite ready to commit to these bright hues all over their home, there's still an opportunity to incorporate them into your current space. For example, a bold neon accessory like this lamp or these pillows can add that needed punch of color!
2. Unexpected Focal Points in Neon
The interesting thing about the neon trend is that it goes against many people's expectations. Neon colors were traditionally associated with a certain type of establishment, making some question whether or not they should bring them into their homes. However, when added in small doses and paired with complementary colors such as white objects (think crisp white furniture, black and white abstract paintings), the color can be stunning.
3. Pair it With the Muted Versions of the Same Color Pallete
This trend can be a great way to add something unexpected and different into your home, but you don't want it to take over. If the colors are too intense, try pairing them with muted versions of the same color palette: orange paired with peach or mint paired with dusty lavender.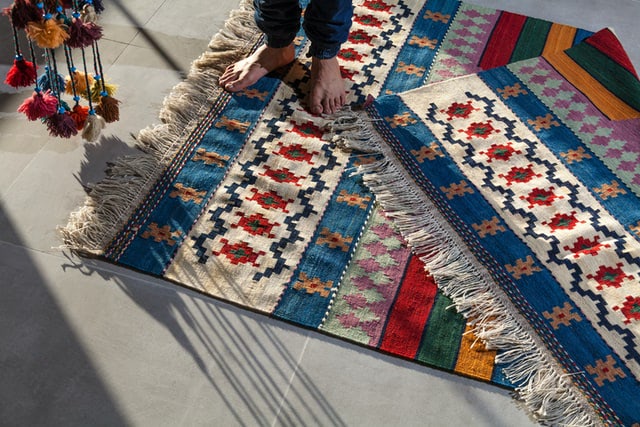 4. If You're Hesitant About Adding Colors to Your Home, Start Slowly
You don't have to go all-in on a bright color palette if you're hesitant. Instead of painting your living room orange or green, try out the trend with one throw pillow at first, then add other pieces as you feel comfortable. Or start with an accent piece of furniture, such as a coffee table with built-in colored lights.
5. Neon Strips for Windows Treatment
If you're looking for a way to make your home more cheerful, try adding neon strips or lights on the window treatments. Give it a pink and white or pink and blue treatment, depending on the mood you're going for. Some of our favorite color schemes are pink and purple or neon green and hot pink.
6. Perfect Shade for Kid's Room
Neon colors are perfect for kids' rooms. This bright color is cheerful and very calming and provides the perfect coloring to make a child's room come alive. From the ziegler rugs to the wall colors, neon is a great way to make everything come together and have the room feel like home. The joyous and fun-loving colors of neon create a sense of happiness and attraction for children.
7. Neon with a Bunch of Patterns
Many people have a little bit of an obsession with patterns. There's something about them that draws you in and makes the object seem more appealing to your eye. The beauty of neon colors in your apartment decor is that they can be paired with any pattern or color, giving off vibes from bright and cheerful to dark and moody without compromising style. Also, they add a different look to your room when placed on the walls, instead of just painting them white as most people do.
8. Different Shades and Patterns for Different Rooms
Neon colors are perfect if you're looking for something that stands out in any space. But what shade should you choose? Well, it all depends on what color or shades your decor already has or what goes best with your style. For example, if you have many neutral colors and patterns going on in the room, go for more vibrant shades like blue or purple because they will be easy to work with! Even you can opt for red. You've got enough ideas when it comes to reds – some pinky-reds are perfect for a nursery, deep reds that are great for a living room or office space, and shades of orange like pumpkin spice! Blue is another color to consider.
On the other hand, if you're searching for cool colors for your home, then blues will be perfect because they don't get too hot during summertime (if central air isn't an option). Moreover, if you're searching for warm colors for your home, yellow is a great option because it produces such a welcoming vibe. It's also the color most associated with happiness – so that should be good news! If you want to use green as an accent or neutral shade, opt for more muted tones like sage and olive. Choosing these colors will make your home feel a lot fresher and more inviting.
9. Neon in the Kitchen
Neon is great for the kitchen. Whether you want to use a dim or choose one bright shade, they'll make your space more energetic and fun! If you're going with neon in the kitchen, everything else around it (paint colors, appliances) must match. It will ensure that all of its good vibes are felt throughout the entire space.
10 .Neon in the Bedroom
It's a great idea to use neon colors in your apartment decor for accents, like throw pillows, rugs, and bedding. Add an electric hue on your wall with one bold color, or go as crazy as you want by adding two complementary tones over each other! You'll be sure to get the most out of your apartment decor when you pick a color to stand out.
11. Neon in the Bathroom
Whether you want something subtle or outrageous, neon colors are perfect for your bathroom! A calming lavender tone paired with an electric green is just what you need if you're looking for a space that's soothing and fun. You can also layer different shades of blue or pink if you're feeling bold. It is an excellent idea to add some color to your bathroom without being too overpowering and dark.
Summing Up
As you can see, neon colors are a great way to add some joyfulness and color to your space. We hope you have got the inspiration that you need to get started on adding more of these bright hues to your home decor. Whether through colorful accents or an entire room makeover with new furniture in a bold hue, there is no end to what creative possibilities await! So go ahead and start shopping for Pakistani rugs – we're confident that one of our available options will suit any style and budget!