Raw corten steel and concrete exterior dress the Crossing Wall House, sited where the Santa Ynez Mountains meet the Pacific Ocean
Architects: Mobile Office Architects
Location: Santa Barbara, California, USA
Year: 2015
Area: 2.050 ft²/ 190 m²
Photo courtesy: Tyson Ellis
Description:
"The Crossing Wall House, designed and built by Mobile Office Architects (MOA), is sited where the Santa Ynez Mountains meet the Pacific Ocean, overlooking the City of Santa Barbara and the Channel Islands.
The parcel's steep grade necessitated careful site planning and guided the building form as it utilized two narrow existing terraces. The two differing orientations of the terraces are expressed by two geometric grids that come together in the homes central living space and open the home to views toward the ocean, islands, and lowlands. Two crossing retaining walls at the upslope side express the two project geometries and define the project's position on the site. At the back, one wall takes on an open and porous techtonic blurring the boundary between the constructed environment and the wild chaparral landscape.
The primary living space acts as an indoor-outdoor pavilion; opening fully at the back to the entry courtyard and to a deck at the front with downslope views beyond. The raw corten steel and concrete exterior material palette was developed to create a building that ages with the landscape and responds to localized threats posed by wildfire and wood-eating termites.
The project utilizes passive solar, thermal mass, passive ventilation, and solar hot water strategies to produce a fluid indoor-outdoor environment that operates at high levels of energy efficiency."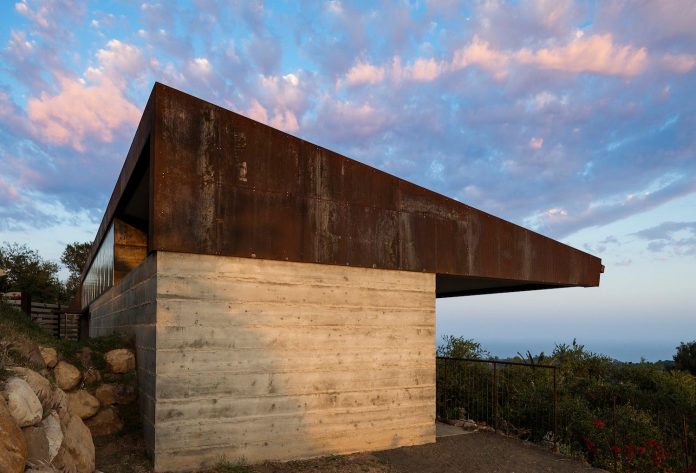 Thank you for reading this article!