Spacious house that could host a lot of people at any given time by Echo Design
Architects: Echo Design
Location: Pri Gan, Israel
Year: 2016
Area: 4.520 ft²/ 420 m²
Photo courtesy: Shai Gil
Description:
"A few years ago a couple approached us, more or less our age, to design their second home. The new lot they purchased was 2500 square meters, right next to their existing lot. The couple's old house was built and planned while they were very young. It didn't suit their current needs nor their current taste. When asked for some general design guidelines we were told that they knew what they didn't want, but couldn't point out what they did want. However, they definitely wanted a spacious house that could host a lot of people at any given time, as well as an overall design that wouldn't be too flashy.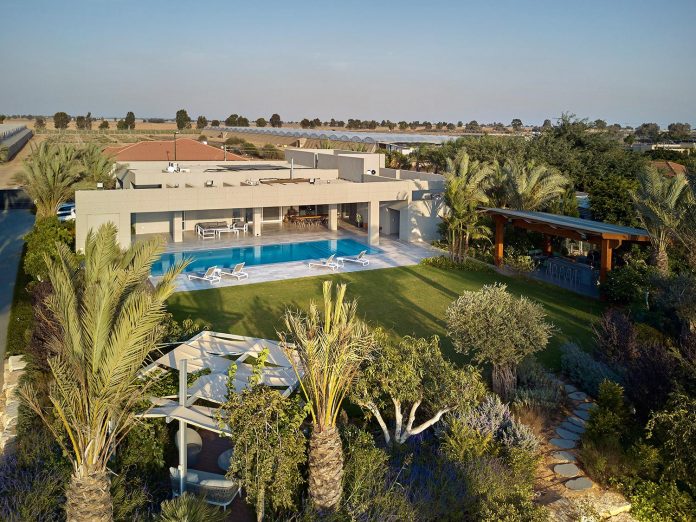 We decided to take full advantage of the construction permits and planned a 400 sqm house with another 80 sqm for roofed balconies. We designed a house with very clean, crisp lines. The "L" shaped design created a seamless transition into the garden and took advantage of the natural light. The couple has five children in a wide age range – Post military to kindergarten. They wanted each of them to be given a comfortable spacious room that's still modest. We designed the three children's rooms with two bathrooms, as well as a suite for the girl with a walk-in closet and private bathroom. The same area has a big laundry room with a roofed space for hanging laundry.
The children's rooms were designed linearly, connected via a wide well-lit hallway. Walking through it, you can see glimpses of the communal spaces and garden through the side vitrine, allowing the children to exit straight into the garden from the hallway. The master bedroom is on the other side of the house, giving the couple complete privacy. The bedroom has a walk-in closet and big bathroom. Between the shower and bedroom, we designed a patio space that gives them privacy in front of the shared garden and allows more natural light to seep through. The communal spaces were designed on both sides of the house so that the kitchen faces the main road – Though at the same time, you can see the whole garden, living room and dining area in one big space alongside vitrines that allow you to exit into the garden.
Next, to the kitchen, there's a big pantry and garage with entry straight into the kitchen. The outdoor communal spaces (perfect for hosting plenty of guests) feature an 80 square meter covered balcony, a swimming pool at the back of the yard, toilet, shower, kitchenette and pool storage. Additionally the garden has two pergolas- one bigger and spacious with an outdoor kitchen, grill, plancha, outdoor stove, sink and surfaces for both cooking and dining – The other pergola is further to the side for more intimate gatherings. Other than the meticulous design, we knew that we needed professional landscape architecture. We took on a landscape architect for this project to design the outdoor spaces and pull the entire look of the house together."